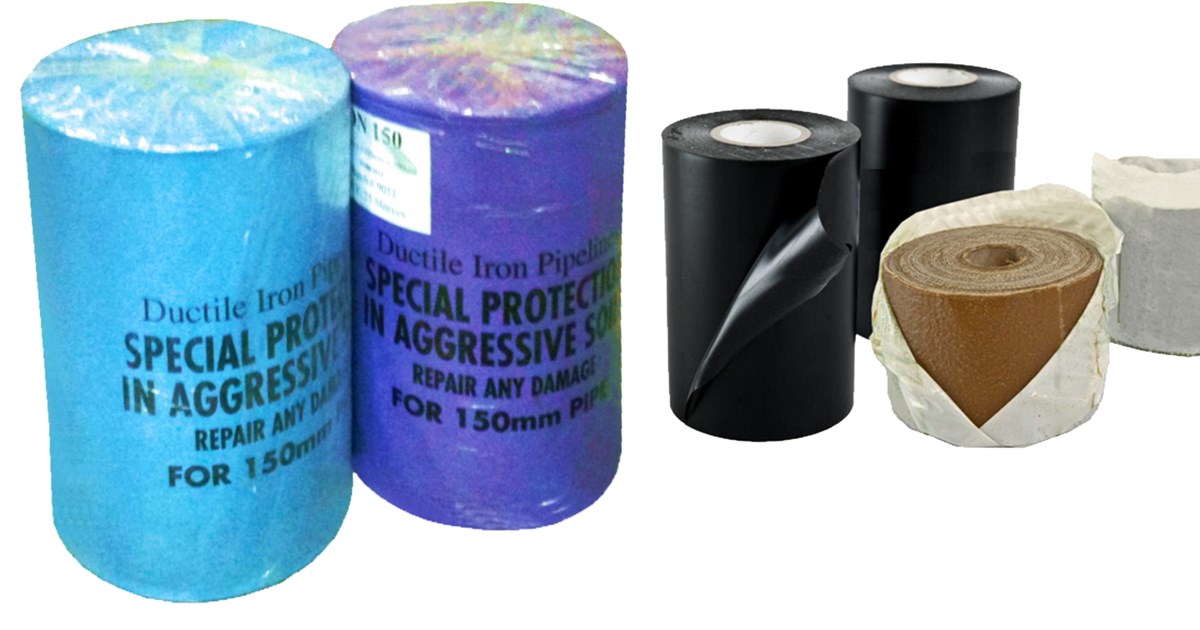 Corrosion Protection
Many modern metal pipeline products are manufactured with corrosion resistant coatings and as such require no additional protection for normal conditions.
For exposed metal pipes and fittings, CIVILPIPES offer a range of products that enhances the pipelines resistance to corrosion.
The local authority will determine the appropriate level of corrosion protection required for the ground conditions and the materials in use.
PIPE SLEEVING

AS 3680 POLYETHYLENE SLEEVING for ductile iron pipes
Corrosion protection for aggressive soil conditions
DN 80 - 750
Colour/application options:
Potable water (Blue), Recycled water (Purple), Sewer (Cream)
.

PETROLEUM TAPES

PIPELINE CORROSION PROTECTION SYSTEM
Protection of metal pipes, joints, fittings and components above and below ground.
Synthetic fabric impregnated with petroleum compounds.
Options:
Primer, mastic (surface preparation)
Petroleum tape (corrosion protection)
Outerwrap PVC self adhesive (external protection)
.

FUSION COATING REPAIR KIT

JOTUN JOTACOTE 605 epoxy coating
Repairs to fusion bonded epoxy coatings
2 Part epoxy paint system
Colours - Valve Blue (other colours on request)
Options:
200mL Repair kit (0.65 sq.m at 300um WFT)
5L Kit (16.5 sq.m coverage at 300um WFT)