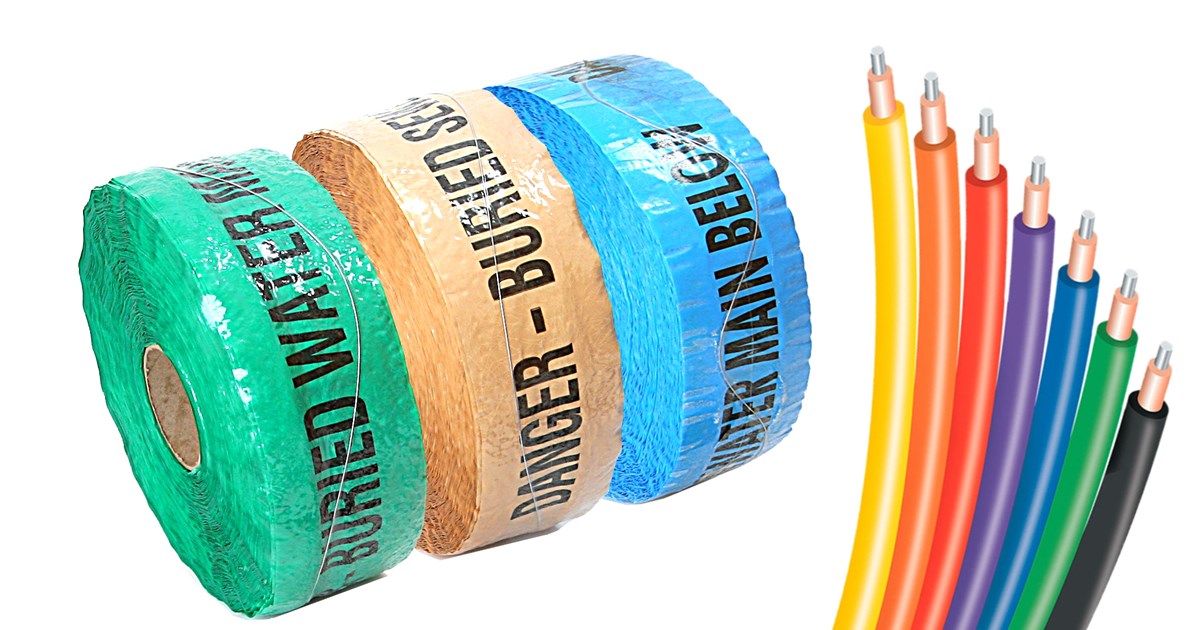 Pipeline Detection
We supply of range of detection products designed to assist in the identification of buried pipelines.
MARKER TAPES

DECTECTABLE MARKER TAPE - AS/NZS 2648.1 & 4275.0
Below ground applications
316SS tracer wire laminated between 2 layers of polyethylene
Std roll - 100mm wide x 250m
Coloured coded and labelled to suit application
(Non-detectable tapes are available on request)
.

TRACER WIRES

COPPER TRACER WIRE
Below Ground applications including HDD and pipe bursting
Copper tracer - gauge options: 1mm, 1.6mm, 2mm, 2.5mm dia
Spool size 175m or 760m
HDPE colour coded coating to suit application
(SS tracer wire is also available on request)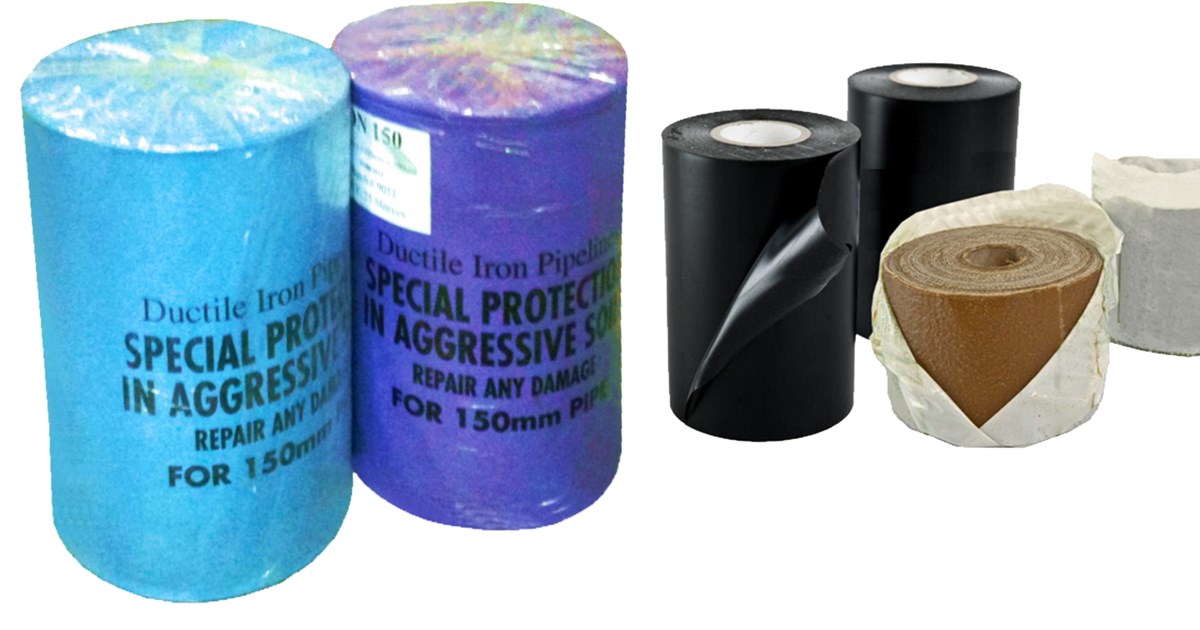 Corrosion Protection
Many modern metal pipeline products are manufactured with corrosion resistant coatings and as such require no additional protection for normal conditions.
For exposed metal pipes and fittings, CIVILPIPES offer a range of products that enhances the pipelines resistance to corrosion.
The local authority will determine the appropriate level of corrosion protection required for the ground conditions and the materials in use.
PIPE SLEEVING

AS 3680 POLYETHYLENE SLEEVING for ductile iron pipes
Corrosion protection for aggressive soil conditions
DN 80 - 750
Colour/application options:
Potable water (Blue), Recycled water (Purple), Sewer (Cream)
.

PETROLEUM TAPES

PIPELINE CORROSION PROTECTION SYSTEM
Protection of metal pipes, joints, fittings and components above and below ground.
Synthetic fabric impregnated with petroleum compounds.
Options:
Primer, mastic (surface preparation)
Petroleum tape (corrosion protection)
Outerwrap PVC self adhesive (external protection)
.

FUSION COATING REPAIR KIT

JOTUN JOTACOTE 605 epoxy coating
Repairs to fusion bonded epoxy coatings
2 Part epoxy paint system
Colours - Valve Blue (other colours on request)
Options:
200mL Repair kit (0.65 sq.m at 300um WFT)
5L Kit (16.5 sq.m coverage at 300um WFT)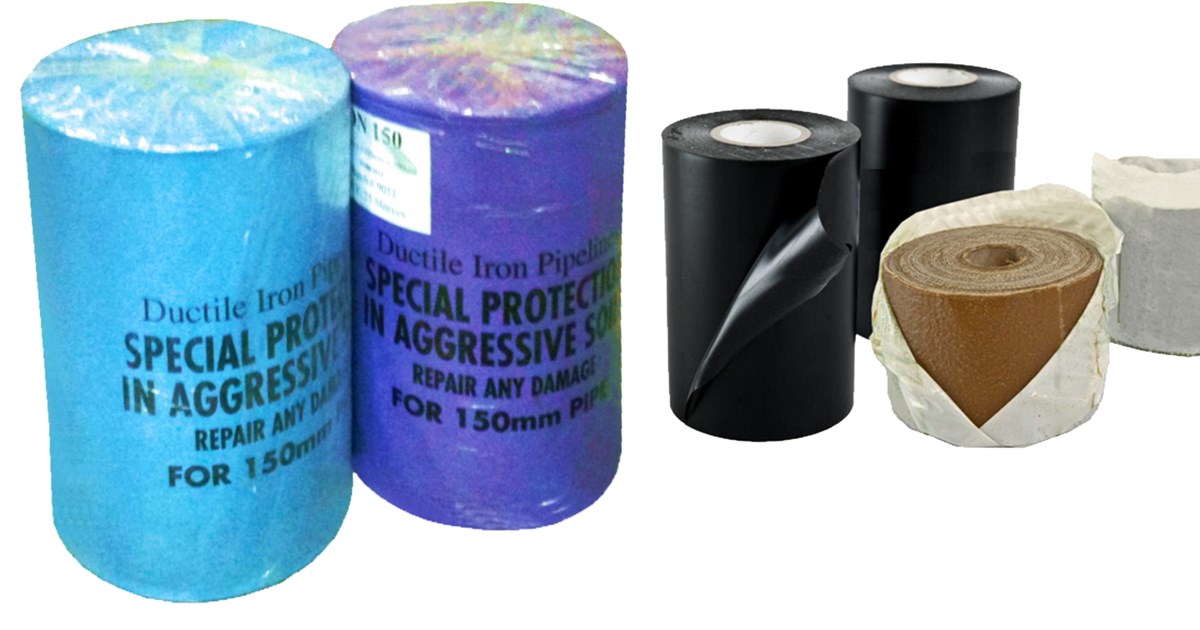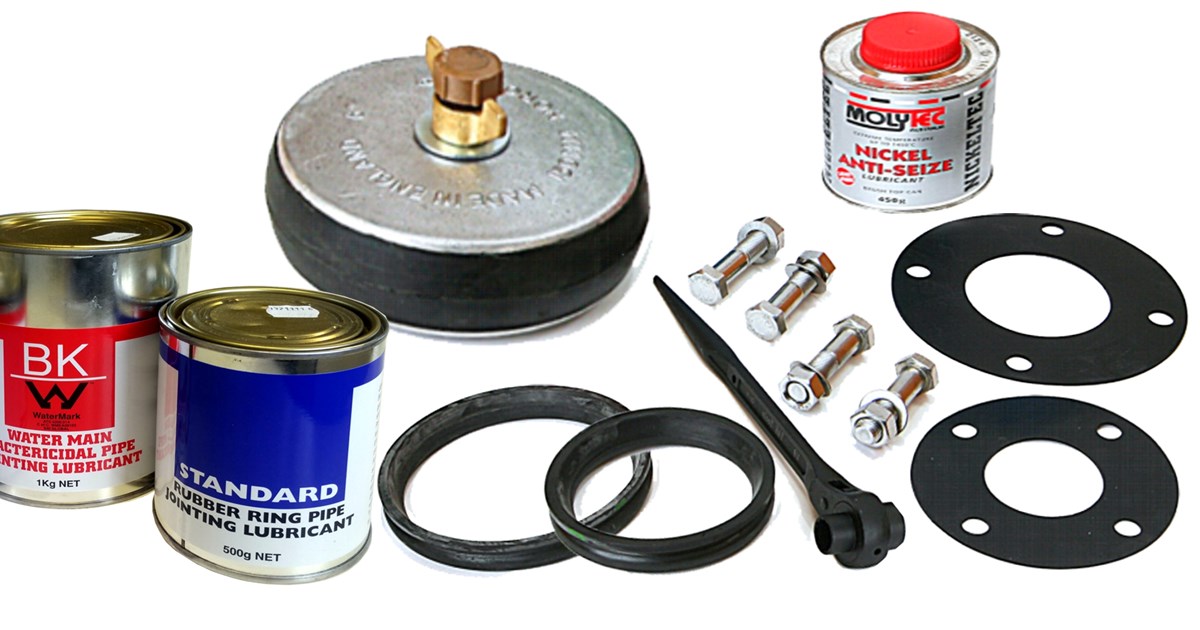 Jointing & Installation
CIVILPIPES supply an extensive range of products to aid in the jointing and installation of pipes and components.
For further details regarding any of the listed products or any other products, contact our experienced technical staff for assistance.
LUBRICANTS

Pipe jointing lubricants
Anti-Seize thread lubricants
.

SEALS

Rubber rings to suit PVC and DI pipe sockets
EPDM and Fibre flange gaskets
.

FASTENERS

Galvanised bolts, studs, nuts and washers Gr 4.6 & Gr 8.8
Stainless steel bolts, studs, nuts & washers Gr 316
.

TOOLS

Ratchet spanners
Rollnut wrenches
Manhole lifters
.

ADHESIVES

Megapoxy - Gap filling epoxy adhesive
Thread locking adhesive
.

TESTING

Test plugs
Pipe swabs